As we reflect on the academic year and look forward to the fall semester, we celebrate all that we've accomplished and all that's ahead.
Read highlights from the 2021-2022 academic year below. Did we miss any? Share your favorite Gettysburg College moments on social media using #gettysburgreat.
Building upon our promise since 1832
At Convocation, President Bob Iuliano shared with the Class of 2025 Gettysburg's promise of A Consequential Education—one that has existed since our founding in 1832 and one that empowers each member of our community to lead a consequential life, full of contributions to the world and the lives of others. In the Winter 2022 issue of GETTYSBURG College Magazine, professors and alumni, among others, helped define what A Consequential Education means to them. 
A Consequential Education has been situated at the heart of our strategic plan, Living Our Promise, for which we're exploring how to be even more purposeful in the naming and living of that promise. In the coming years, we will double down on the institutional strength of the people within this community—in a way few other colleges ever have. In doing so, Gettysburg aims to provide one of the most personal and student-centered educational experiences in the nation, one that brings together all that our students do in and out of the classroom, ensuring that they have all of the necessary tools to thrive in an increasingly complex and interconnected world. A hallmark of that plan includes the launch of our Center for Student Success, a central hub for holistic support through our students' four years here.
Celebrating campus
Across campus, the Gettysburg College community also celebrated the return of beloved traditions and in-person events this academic year, from two First-Year Walks—one for the Class of 2024 and the other for the Class of 2025—to two Commencements, as the Class of 2020 reunited for their delayed ceremony in September and the Class of 2022 didn't let a little rain dampen the festivities in May.
Commencement for the Class of 2022 (Photos by Shawna Sherrell and Jason Minick)
We also warmly welcomed the return of student favorites including Servo Thanksgiving, International Food Fest, and BurgBurst. Additionally, the Black Student Union reached the celebratory milestone of its 50th anniversary and will be commemorated in the next issue of GETTYSBURG College Magazine.
Returning to the spotlight
Gettysburg College student-athletes and talented performers returned to the spotlight this year following the COVID-19 pandemic, overflowing with excitement and feeling determined to make their long-awaited homecoming one worth remembering.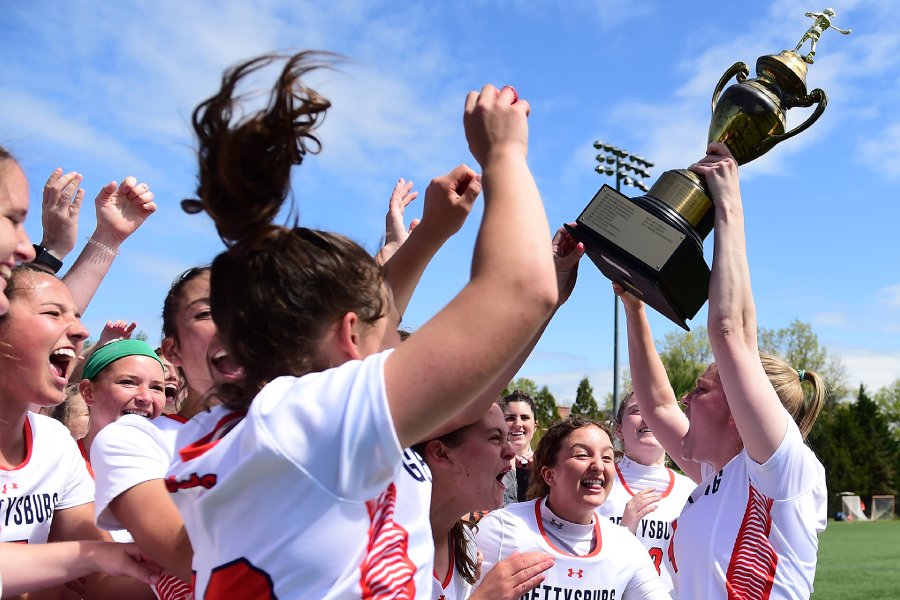 It was a year filled with sweat, grit, and remarkable efforts across the board for our athletic programs, which led to numerous conference titles and postseason runs. In her final season upon announcing her retirement, Coach Carol Daly Cantele '83, P'15 led the women's lacrosse team to its record 13th Centennial Conference crown before marching to the national semifinals. Men's lacrosse also advanced to the NCAA quarterfinals, while Holly Ferrara '24 grabbed All-American honors with a fourth-place finish in the javelin at the NCAA Division III Outdoor Track and Field Championships. Also earning a conference title and heading to the NCAA playoffs was women's basketball, and swimmer Oliver Pickering '22 was named the conference's Scholar-Athlete of the Year across all men's sports.
Theatre arts made a special comeback too, as students stepped back on the stage in front of a live audience for a riveting performance of "Into The Woods," presented by the Gettysburg College Department of Theatre Arts and the Sunderman Conservatory of Music. This kick-off performance was followed a few months later by Shakespeare's whimsical comedy, "Twelfth Night."
Learning beyond the classroom
This year, our students dug into new topics, perspectives, and learning experiences outside of the classroom. Throughout October, the land between Musselman Library and Pennsylvania Hall became the site of an archaeological dig, co-directed by Anthropology Profs. Ben Luley and Kirby Farah. Together, their classes excavated a few feet deep to recover artifacts and architectural remains of an 1800s house, which served as the residence for then-College custodian John 'Jack' Hopkins between 1860 and 1928, who was also a pillar of Gettysburg's Black community.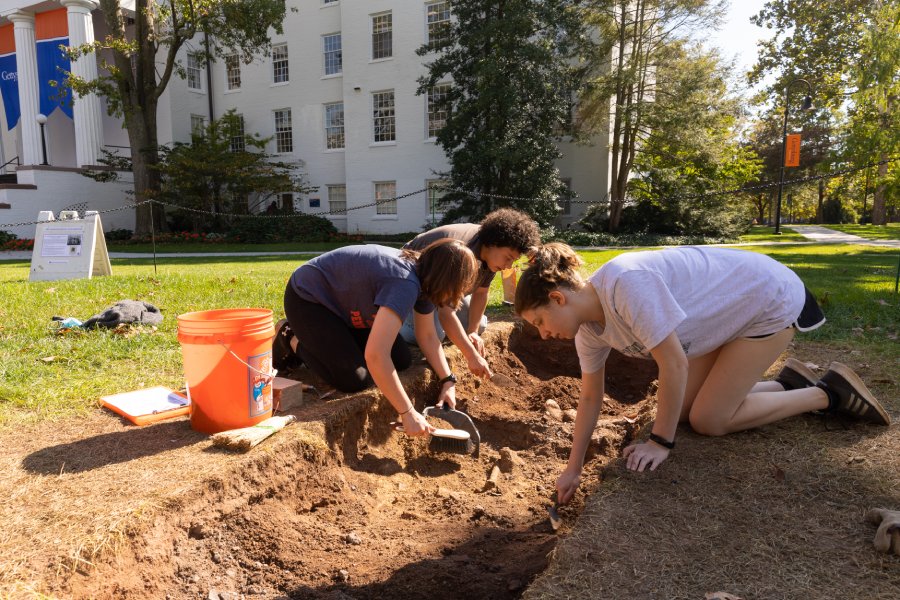 Further exemplifying our students' deep desire to learn through doing, hundreds of students combined for nearly 1,000 registrations for our J-Term course lineup in January—taking advantage of an opportunity to remain intellectually engaged during the winter break, while building upon career and life skills as well-rounded Gettysburgians. Many J-Term favorites returned, such as the Eisenhower Institute's leadership series and the Center for Career Engagement's meet-up events, while new additions included: "Stories from the Gettysburg Battlefield," "Leadership and Community Change at Home," "Renting and Home Buying," "Writing a Personal Statement," and more.
Making national headlines
Newsworthy in their endeavors, Gettysburgians were featured in the media nearly 400 times during the 2021-2022 academic year, with more than 75 being national mentions. Some noteworthy news placements included The New York Times, Time Magazine, Politico, The Atlantic, and The New Yorker, among many others. Eight Gettysburg faculty and staff members also released major works in 2021, including books, albums, and podcast courses.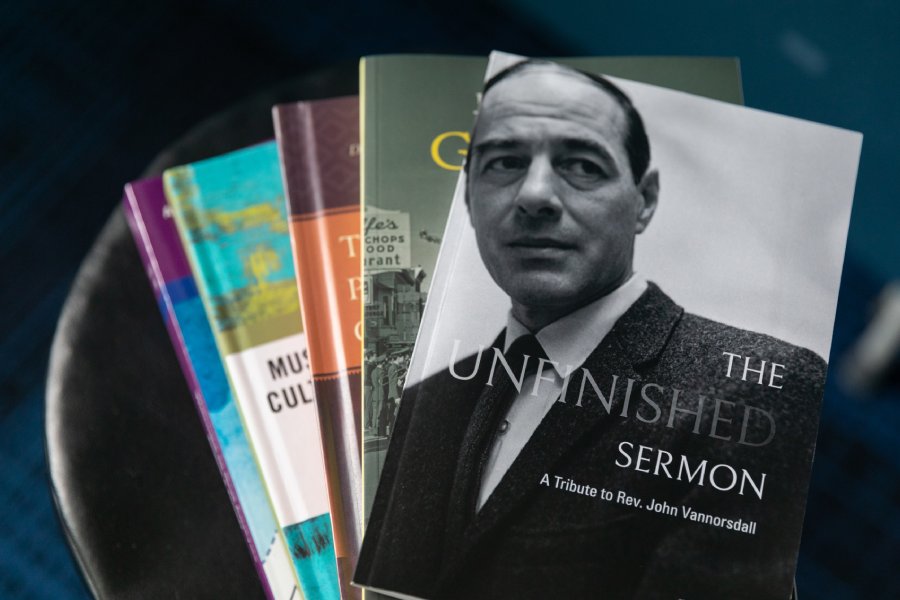 Beyond media hits, Gettysburg College also ranked among the top colleges in the country for our value, programs, and liberal arts and sciences experience. This year, we earned platinum status for civic engagement from the ALL IN Democracy Challenge, ranked No. 1 in the state and No. 3 in the nation for mid-length study abroad programs by The Power of International Education (IIE) Open Doors Report, and were named a top producer of Fulbright Scholars. Read more about our rankings and reputation.
Exceeding fundraising goals
This year, thousands of alumni, parents, and friends generously supported Gettysburg College's exceptional student experience—uplifting current and future generations of Gettysburgians with inspiring giving totals for the 2021-2022 fund year. New gifts and commitments to the College totaled an impressive $21.3 million, an increase of $4 million over the previous year. Nearly 5,300 alumni, 1,990 current and past parents, and hundreds of faculty, staff, and friends contributed to this total.
The College also raised a record $4.1 million for the Gettysburg Fund, marking three consecutive years of the Gettysburg Fund exceeding $4 million. An all-time high of $753,019 was given to the Orange & Blue Club in support of student-athletes in addition to the $375,000 committed in support of The Hank Janczyk Endowed Fund for Men's Lacrosse.
Through a focused matching challenge campaign, more than $5 million was committed for endowed scholarships, furthering Gettysburg's mission to provide an education that is accessible to talented students regardless of their financial circumstances.
One hundred students received inspirational care packages during finals week as a result of a successful crowdfunding initiative sponsored by the Gettysburg Alumni of Color Council and the Office of Multicultural Engagement. In total, 88 alumni came together to raise more than $8,500 for the effort.
Most recently, more than 1,300 Gettysburg College alumni and guests returned home to campus to celebrate the first Reunion Weekend in three years. Those in attendance honored their milestones by raising more than $4.07 million in gifts and commitments.
Thank you to each member of our community whose support has advanced the Gettysburg College mission this year. Your financial commitment to the College has a lifelong impact!
Launching new diversity efforts
For the first time in its history, the College conducted a comprehensive diversity infrastructure review, led by Associate Provost Jennifer Collins Bloomquist and College Life Vice President Anne Ehrlich. Findings from the review include an integrated approach to diversity, equity, and inclusion (DEI) issues across campus, which will be led by Chief Diversity Officer (CDO) Eloísa Gordon-Mora, a restructuring of the Office of Diversity and Inclusion to connect with and support key areas across the College, the development of a DEI cabinet to support the CDO, and a cross-divisional review of structures in place to support members of our community with disabilities. Additionally, the College completed a Campus Climate Study Survey, which will guide the development of strategic initiatives and actions that address identified concerns in the fall of 2022.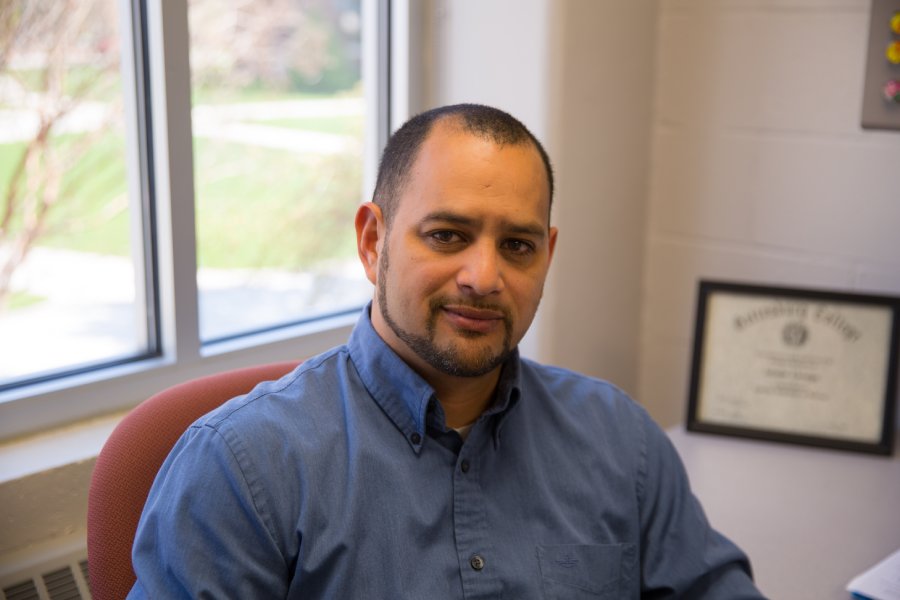 This past year, our community was also inspired to pursue other DEI initiatives that aligned with the College's commitment. Led by Men's Head Basketball Coach B.J. Dunne and his team, who invited Kyle Williams P'23 to host the anti-racism activation experience, "A Long Talk About the Uncomfortable Truth," the College is working to establish the country's first chapter of the American Anti-Racism Alliance. Prof. István Urcuyo was recognized at Fall Honors Day as the inaugural recipient of the Bruce S. Gordon '68 Diversity, Equity, and Inclusion Teaching Excellence Prize. Plus, under the leadership of Director Amanda Del Gaudio, the Women's and LGBTQIA+ Resource Center adopted a new name—The Gender and Sexuality Resource Center—to more fully unify its offerings and resources for our students. Read more about our DEI initiatives.
Most recently serving as the inaugural university diversity and inclusion officer at the University of Nevada, Reno (UNR), designing and implementing its first DEI Strategic Action Plan, Gordon-Mora will officially join the Gettysburg College community on Aug. 8. She is a renowned leader in DEI practices with a longstanding commitment to democratic civic engagement and social justice. She was also recognized as one of "35 Outstanding Women in Higher Education" by Diverse: Issues in Higher Education, earned a Ph.D. in political science from the University of Notre Dame, and has taught both domestically and internationally. Read the full press release.
Boosting community awareness
In the fall of 2021, Gettysburg launched the It's On Us campaign, joining a nationwide movement for sexual assault awareness and prevention education on college campuses. More than 1,000 members of the College community signed the pledge in support of the campaign. Gettysburg College was one of 37 institutions to receive a $30,000 It's On Us PA grant, which was used through May 2022 to boost education efforts and prevention programming on campus, including additional staff training, resource development, and more. The College has again received this selective grant for the 2022-2023 academic year.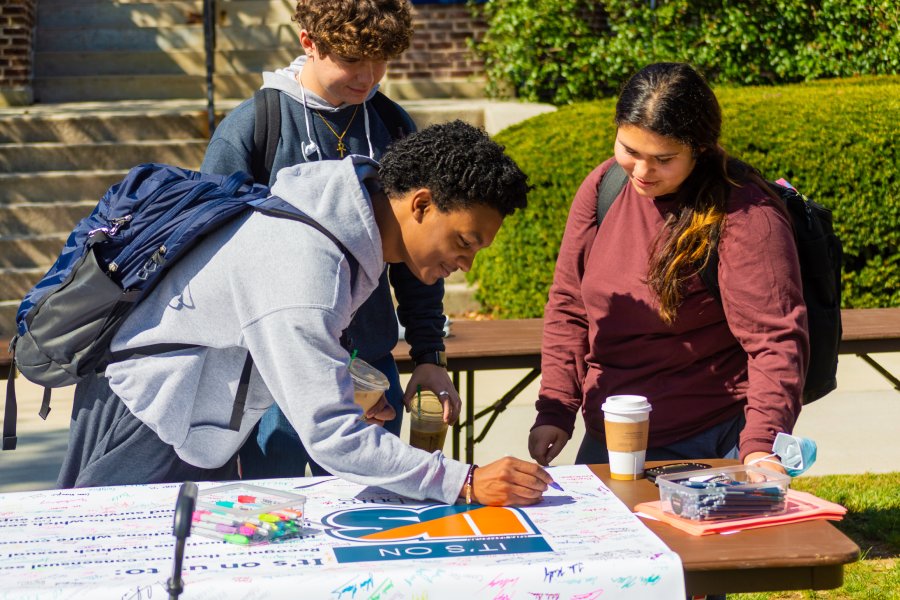 Award-winning public speaker Kyle Richard, a former SUNY Cortland football player who was shot while trying to prevent a sexual assault in 2017, also spoke to more than 400 Gettysburg community members about the importance of being an active bystander on Oct. 7 and later met with more than 70 student-athletes as part of the Student-Athlete Impact Leader (SAIL) program for Domestic Violence Awareness Month.
Then in April, Pennsylvania Governor Tom Wolf awarded Gettysburg $75,000 for the installation of more security cameras, electronic locks in key areas where bias incidents are a high risk, and updated radio equipment to improve response time.
Learn more about the efforts led by Gettysburg College's Office of Sexual Respect and Title IX.
Welcoming our newest Gettysburgians
On April 9, Gettysburg held its first in-person Get Acquainted Day in three years, as hundreds of prospective students visited campus to see firsthand all that the College has to offer.
As the College's reputation continues to grow, so does our national and international footprint, as the Class of 2026 is on target for 650 members to arrive this fall, including the largest cohort of international students in College history of nearly 100 students from around the world.
Strengthening American democracy
Early signs of the impact of our strategic planning process emerged in April, as the College proudly announced three offerings dedicated to strengthening American democracy, given the special responsibilities entrusted to us as Gettysburgians and our definin